Garri Business In Nigeria
Chukwudi Nwosu is the C.E.O of Jaco Garri processing factory in Delta State, Nigeria. To him, Agro business is a social problem that begs for a solution: 'Before you delve into Agro business, you must first visit people that are already into Agriculture, find out what they are doing right and what needs improvement. You must bring something new to the game.'
Chukwudi believes that Agro business is not a venture for the impetient. He says: 'when people tell you to invest in Agro business and make 100% profit, nice! Some people are making money that fast. However, you need to know to whom you are giving your money. When it sounds too good to be true, it probably is. You should be an informed investor. Agro business needs a sound foundation before profiting.'
The life of the Entrepreneur
Chukwudi grew up in Onitsha, Anambra State, and attended the prestigious Dennis Memorial Grammar School. He believed that he cultivated his discipline while in Secondary School. 'I know that money is not as important as how it comes. There must be a track record of every entrepreneur's progress. And upcoming entrepreneurs should see us as a model.'
He started as an Agricultural chemical salesperson for Candel Company. His network covered Anambra, Delta, Enugu, and Imo.
'In sales job,' he said, 'target keeps coming. You think of a way to increase the market share.'
I talked to Cassava Growers in Delta State, and we agreed that if I could find the market, they would double their production. When I met got a nod from Nigerian Starch Mill in Ihiala, Anambra State, I thought I have solved the problem. However, when we supplied the first batch, the Mill complained about the Starch Content of our product. We didn't consider the variety of the cassava.
The farmers did not make any profit in the first transaction, and it deterred them from continuing. I went back to the farmers and staked my reputation. The farmers reunited again and produced tons of cassava. I was on my way when the management of Nigerian Starch Mill called to cancel the demand. I found myself stuck. There was no other Mill to divert the products to.
I could not sell the products; and yet, I paid the farmers. That day was the turning point in my life. That day, I hatched the idea of starting my processing factory.
How He Sees Agro Business.
To survive in the Agro business, you must have patience. You must cultivate the value of the farmer. You must appreciate that there is a time to sow and a time to reap. Agro business is not what one person can do. You must understand the farmers, the labor force, the marketers, and even the consumers. A little financial mistake can take one out of the business. Agro business requires constant monitoring. You only enjoy the business after establishing a working template.
It is not a business you delve into without the proper knowledge of it.
'You cannot just start planting Cassava because people say that there is money in Cassava. You must ask yourself this fundamental question: why cassava?'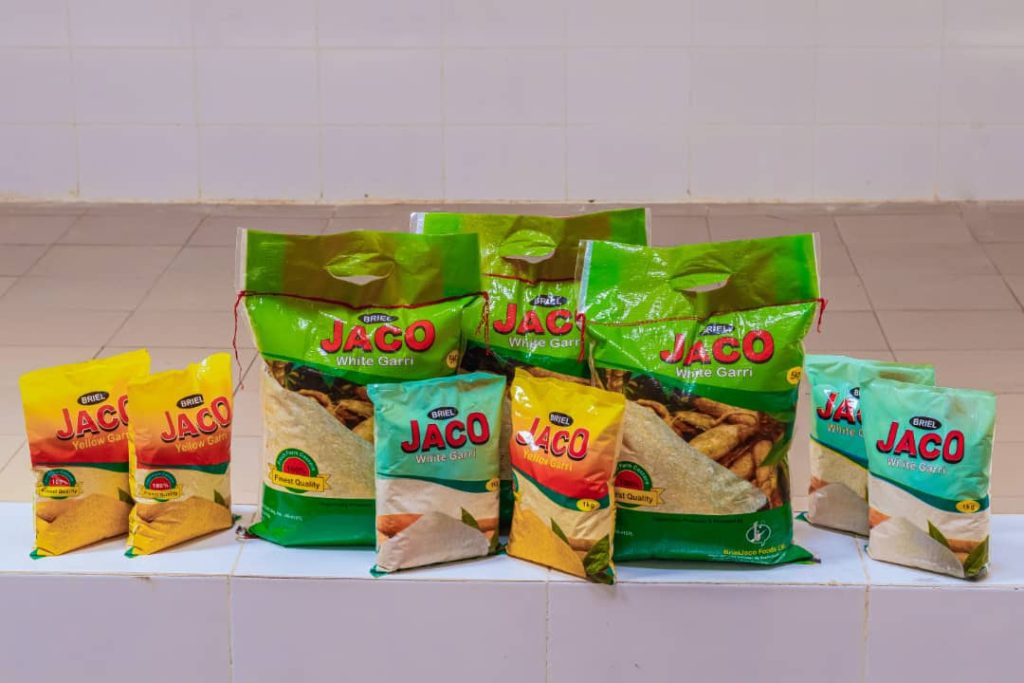 His Journey So Far In Garri Procession
I thought about starch, but it would cost nothing less than a hundred and fifty million Naira to start. And I do not have such a fund. I thought of going into cassava flour, but it is also capital intensive. Then the idea of Garri came to mind. I started asking myself the question: is there any gap in the Garri procession we can fill?
We visited over 50 different Garri processors in different villages and found out that Lassa fever was an issue in those days. The media warned people against Garri. We discovered that rats (which were the vectors of Lassa fever) do not eat Garri, but during the procession of Garri, most factories exposed their products while cooling them. That's how the rats get in contact with the product.
We also looked at the packaging of Garri. In the open market, customers are free to touch Garri. And some of them may touch it with dirty hands.
Then, we thought of a way to prevent open-air cooling and more hygienic packaging of Garri. Again, we noticed the shifting pattern among the Nigerians. Unlike in the past, we visit malls for our groceries. So, we designed a product that is very dry, sand-free, and conveniently packaged. We ensure that our price is competitive.
Today, our products are in Anambra, Delta, Lagos, Rivers, Abuja, and Kano. They sell Jaco Garri in the Malls.
In Lagos, you will see our product around Lekki, and Ajah. We are discussing with Supermarkets in Mainland. Soon, we will supply them. In Abuja, we are in Next Cash and Carry, Sahad Stores, and Kubwa. In Delta, Port Harcourt, and Awka, we are in Everyday Supermarket. Our product is in Market Square in New Haven. In Onitsha, our product is in Old Market Road, Onitsha.
Jaco Garri's Social Activity
If you go to Garri processing communities, there is something you notice. The cassava peels are everywhere. They don't have any plan for it. It generates tons and tons of waste. It is a problem for the communities. During the rainy season, the flood takes the peels to the river and contaminates it. Cassava has a dangerous component known as cyanide.
So, we are investing in research to find the best way to make the problem a waste of wealth initiative. We have developed the Cassava peels to be the raw material for pig feeds. So, we can sell to pig farmers. We plan to be picking the cassava peels from those communities. We plan to partner with women in those communities. They will package the peels, and we send our vehicle to pick up the waste and also get the women's details. Within 24 hours, we will credit all of them. This will keep their environment clean, provide employment and put more money in the pockets of the community women.
Vision
We want to build a Garri brand that will be a household name in Nigeria, Africa, and around the world. Our people anywhere in the world can walk into a Mall and demand Jaco Garri. And when buying it, the customer will know that we produce it under great supervision in Nigeria. And if they have reviews – both positive and negative – they can write to us and we respond within 24 hours. This is where we are going. This is what we want to do.
We want to fly our local brand outside the shores. Just like people can walk into any Chinese restaurant and buy Chinese rice. We can also make it possible for people to walk into Nigerian restaurants everywhere in the world and eat or drink Garri as we do in Nigeria. We want to make sure that our product stands out so that people all over the world will always know when it is Jaco Garri, and when it is not Jaco Garri.
The Role of The Government
The government is doing a whole lot in the Agricultural sector. There is the anchor borrower program where you provide an uptaker. The government will fund the farmers to produce cassava for you, you buy it off from the farmers and pay into the designated account of the farmers. Then, the Central Bank of Nigeria will withdraw the loan and give farmers the profit.
However, this beautiful scheme has its frictions. The major benefactors are the big players that can run 500 million to over a billion naira capacity. Smaller factories that run below 100 million find it difficult to benefit from such an amazing package. I hope CBN should consider smaller factories – even those that run as low as 10 to 5 million. We always have the challenge of interstate movement, they request.
Chukwudi believes that the only partner Jaco Garri will open its door to will be a long-term investor. Someone who will want to stay with the company for 10 – 20 years.