In the build-up to the Onitsha 1 million march for the Labour Party presidential candidate, Mr. Peter Obi, I was plagued with one question:
Would the people of Onitsha close their shops, leave the comforts of their Mouka foams, forgo the taste of Hero and Life at Nwanyi Awka's beer parlor to march for Peter Obi? A movement whose major theme is We no dey give shi shi?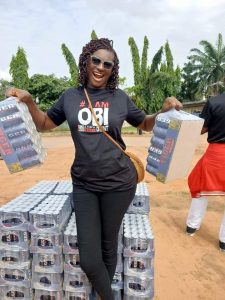 Onitsha and Politics
Onitsha been politically unaware for years, so much so that election day is now referred to as Nsala Day. As a matter of, the last real election I witnessed in this city dates as far back as the 2011 General elections and since then it has been a free fall. This is very evident in the low turn-up of electorates in the polls.
So it was very hard envisioning Onitsha sacrifice the only day, excluding the disruptive Monday Sit-at-home, it gets in a week to bond with family and friends for a 5.00km walk without an incentive.
I grudgingly left my bed Sunday morning not because I had the faith of Martin Luther King Jnr, expecting my good people of Onitsha to turn a new leaf. No, I got up and headed for Godwin Anichebe Stadium Fegge because I want to be able to say, I tried.
I left the house, and it was the typical Sunday morning in Onitsha with people going or coming back from their place of worship, women on the rush hour with polythene bags containing ingredients for yet another Sunday stew, and fitness enthusiasts trotting home after their workouts.
The calm before the storm? I hoped so.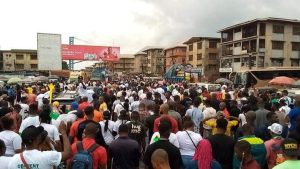 The Mega Rally
When I got to the take-off point, Godwin Anichebe Stadium built by Mr. Peter Obi during his time as Governor Anambra, it was an unbelievable sight. People were already in their thousands and with each passing minute, the crowd grew.
I was filled with so much hope and joy for my city and country. How wrong was I to think there is no incentive to participate in this movement? The incentive is good governance, good healthcare, security, and human and infrastructural development.
Peter Obi's presidential ambition is no longer his but the people's. This is no messianic complex as Mr. Peter Obi's antecedents qualify him for every virtue and value associated with him.
Amid the gyration, music, fanfare, dance and sweats were genuine cries to God for good leadership, for good governance, for Mr. Peter Obi.
Onitsha 1 million march for Mr. Peter Obi ultimately came to an end after approximately 6 hours of an unprecedented experience and youthful exuberance for the candidate of the people at Chuba Ikpeazu stadium, Awka Road Onitsha.
Whether it's pronounced 'rally' or 'larry' Onitsha marched in hundreds of thousands for hope, for a better Nigeria, for Mr. Peter Obi.
Onitsha is OBIdient.
It is POssible