The academic qualifications of the Presidential candidate of the All Progressives Congress, Bola Ahmed Tinubu, have been subject to intense scrutiny after he told the Independent National Electoral Commission (INEC) that his academic qualifications were stolen by unknown persons while he was on self-exile.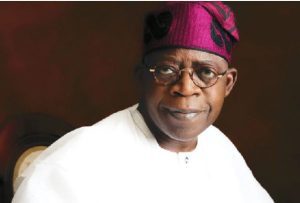 In his affidavit in support of his nomination form for the office of the president, Tinubu said he "went on self-exile from October 1994 to October 1998 (and) when I returned and discovered that my property including all the documents relating to my qualification and my certificates in respect of paragraph 3 above were looted by unknown persons."
Tinubu also skipped information concerning his Primary and Secondary school education in the INEC presidential form, he, however, said he studied Accounting at the University of Chicago between 1972 and 1976.
Chief Bode George said on Arise News that he can bet any amount of money that Tinubu can not provide proof of his Primary and Secondary education. He also challenged Tinubu to present friends or people he went to the school with.
Femi Aribisala also tweeted, "I wrote in 2014 that Tinubu's affidavit that he attended Government College Ibadan (GCI) between 1965 and 1968 is false. I was in GCI from 1962-1968, and Tinubu was not there. Tinubu now tells INEC he did not go to primary or secondary school. This means he committed perjury."
Words from unverified sources say the reason Tinubu is unwilling to give out his primary and secondary school certificates is that they bear a different name, a name that will give him away as a drug dealer convicted in Chicago for laundering of Heroine proceeds where he escaped jail by forfeiting the accounts.
Full story on Bloomberg
However, there is a report that the University of Chicago released a circular confirming that Tinubu studied Accounting at the university.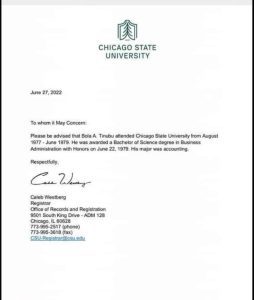 However, it is also worthy of note that the College of Business, University of Chicago received its very first accreditation in 2006 from Accreditation Council for Business Schools and Programs, ACBSP, a regulating body that accords accreditation to business schools and programs in the USA.
This was 3 decades after Tinubu was awarded a degree in Accounting.