The long-anticipated EP, No Day Off, by Nuno Zigi dropped last night. In the build-up to the release, the talented rapper tweeted, "Finally it's here. A long-awaited masterpiece, A piece of me, a fuse of emotions and experiences. I'm excited to usher in this new era of greatness for myself and my music. Super Grateful to my teeming fans. One more sleep And they'll sleep on me no more"
Here's a quick review of the tracks in the EP, No Day Off
1. 11th Hour
A track he said was not in the original draft of the EP hence the name 11th Hour. A blend of hymn and rap that both the young and the old can vibe and relate with. The idea of the track is starting with prayer and supplication, and also a depiction of where he comes from and his Anglican background.
"Bless this day O God we pray, ka anyị na amapụ na okwukwe. All my guys ga ebute ike…"
2. Odia
Odia is a drill song where the talented rapper basked in his self-confidence, his belief in himself, and his talent. He proved once again he is one of the best when it comes to wordplay. Odia is one of the hits to watch out for in the EP. A hard drill song.
Ife ọbụna Nuno mee, Odia!
3. Free Spirit
I fell in love with this one on the first listening. A beautiful piece of art. Wonderful wordplay and drill culminated with the Zulu sound of South Africa to give a victory sound. One to look out for
Mgbe m ga recall memories etu m sii labor ka Hercules, mgbe m na efu ụzọ ka onwe kpulu isi, ya bụrụ na ime my Mercedes…
4. Eleti
Zigi showed his versatility by stepping away from rap to sing, a show that he's not afraid to test new waters and his first attempt at singing were not bad. Eleti is an Igbo pop and dancehall. A good one that needs some getting used to
Eleti I na enwugodi ọkụ
5. Lord Lugard
The controversial lead single has been in the public space for a while now and has generated a lot of discourse on the controversies of amalgamation and the current reality we find ourselves today in Nigeria
6. Robinhood
A classic rap that is all about storytelling. In Robinhood, Zigi talked about his life; his childhood story, his path to fame, the painful loss of his father last year, his hunger for success, etc. It is an inspirational jam and one to look at for.
I made out of the hood for good na e choke table with food ka my fam na atachi, Awada Robinhood nalu Peter nye Paul now Paul astandigo tọọlụ, Paul na eputizi call na bọọlụ men na hood
7. Nyem BTC
A very relatable track that talks about the low ROI in education in Nigeria. Nyem BTC is a track you wouldn't want to end but ended too soon which gives it a high replay value.
Nyem BTC, jide B.Sc… asirokwa na school bu scam mànà ife m na agwa gị bu ka osi adị
8. Abụ 101
With the title, you will think, "Aww, a church boy that started with a hymn and ended with one." I hate to be a spoiler but nothing is more wrong. Abụ 101 came from the stables with the popular hit Gae. This track is infectious and probably one you will hear on your street before the day runs out.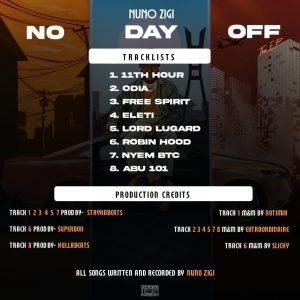 No Day Off by Nuno zigi is available on all music platforms. Click to stream/download