Jeriq Kola Connect Outing With Hero Beer
Wonder what it feels like mounting a stage and watching as your audience sing every line in your songs? Imagine watching a thousand hands stretched from the crowd towards you. And from the faces of these strangers, you could feel the love.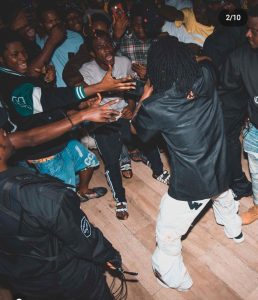 Jeriq impressive performance in Enyimba city is an experience Aba will not forget in a hurry. The excitement he brought to the stage was terrific. I know that artists throw their clothes to the crowd because it is expected, but observing the gesture by Jeriq, it was obvious that the love shown to him by the crowd moved him. He could feel their affection.
Jeriq is already a household name, and he shows no sign of slowing down. He is a born star that lights up any stage he mounts. His style resonates with whoever listens to it. And when Jeriq's music hits, you feel the pleasure.
Asides from the uniqueness he brings to the stage, Jeriq is fast becoming a role model to the youths nationwide. His journey is an inspiration to many. His debut album, Billion Dollar Dream, which peaked at number one on Audiomack and Apple music, reveals that his style appeals to music lovers globally.
Hero Lager Beer has been at the forefront of talent development in the country. Their talent hunts and competitions have offered a lofty platform to many young Nigerians. And just as they did in the Kola Connect in Aba, they bring celebrities under the same roof with their fans.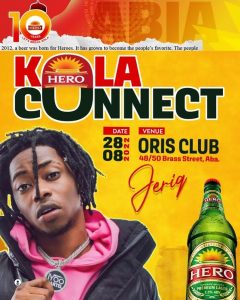 Jeriq grew up on the streets of Nkpor, Anambra State where he had an unusually street-oriented childhood that is felt in his music. He is currently an independent artiste signed to his own record label, Iyoo Cartel which also has a clothing line.