Clothing Business In Anambra State
Clothing Business Anambra State | In the heart of Oko, a vibrant community in Anambra State, Chiamaka's entrepreneurial journey is a testament to the power of small business and unwavering dreams. Her story is one of inspiration and ambition, as she transformed her love for Oko from a student's home into a thriving business hub for herself and her family.
A Dream Ignited in Oko
Chiamaka's journey began during her time as a student in Oko, a place she grew to adore. It was in this welcoming community that she saw an opportunity to turn her passion for clothing into a thriving business. With dedication and vision, she embarked on her entrepreneurial path.
The Evolution of a Business Hub
As the years passed, Oko evolved into a bustling business hub, and Chiamaka's venture flourished alongside it. She carved a niche for herself in the clothing industry, offering unique and quality pieces that soon gained recognition not only locally but also beyond Anambra State's borders.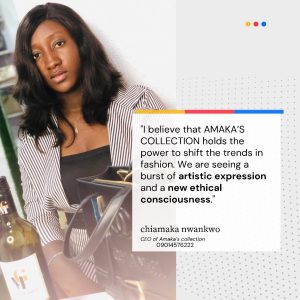 A Governor's Gesture: A Game-Changer
Chiamaka's story took an exciting turn when Governor Chukwuma Soludo, recognizing her dedication and the quality of her products, made a purchase from her collection. This gesture not only boosted her credibility but also opened doors to a broader audience through social media.
A Continued Passion for Clothing Business Anambra State
Amaka's Collection, Chiamaka's thriving clothing business, has become a go-to destination for those seeking stylish, quality garments. Her dedication to her craft is unwavering.
Get in Touch with Chiamaka
If you're looking to explore her collection or simply want to connect with her, Chiamaka is active on social media.
Her phone number, 09014576222, is now a direct line to the fashion choices of many in Oko and beyond.
You can reach out to her on Facebook, as "chiamaka Nwankwo," or visit her Instagram page, "amakas.collection." Her journey is an inspiration to those who dream big and work tirelessly to achieve their goals.
Chiamaka's story is a testament to the potential and dreams that small businesses can bring to life in places like Oko, Anambra. The power of resilience propelled her forward. And her future in the world of clothing and fashion is undoubtedly a promising one. Embrace your dreams and watch them come to life, just as Chiamaka did in Oko, Anambra.