Igbo people built the first community-driven Airport in Africa. This airport is in Ngor Okpala Local Government Area, Imo State. It was built under the first civilian governor of Imo State, Dee Sam Mbakwe in 1983, and was named after him.
History of Sam Mbakwe Airport
The building of the airport begun with the administration of the first civilian governor of the old Imo State (now, Imo, Abia, and Southern Ebonyi states), Dee Sam Mbakwe, in 1983 from the generous contributions of the indigenes and people of the state and throughout the Igbo land. It is to be noted that while this is the first state-owned airport, it is worthy to acknowledge also that it is the first community-driven airport project ever known, at least, in the West Africa. The project enjoyed immense support from then successive Federal Military Governments, especially under Navy Captain James N. Aneke, who saw its completion, commissioning, and operational commencement on 15th July 1994 under late General Sani Abacha.
The People That Made It Happen
On the list that surfaced online lately, it captured the names of notable Igbo Business Owners. Some names were typewritten while they wrote others with a biro.
Other major donors are Chief E.C Iwuanyanwu, the owner of the then, Iwuanyanwu international football club Owerri and now Heartland FC, who personally donated N500,000.00 ($690,000.00). The amount's equivalent today (2022) is approximately N430 million. This made Chief E.C Iwuanyanwu the highest donor.
Chief Sab Ejimofor, Sab Motors, donated N300,000. Chief Nnanna Kalu of the famous Star Paper mill, Aba, and Chief J.R Anyachie, Bonaville Trading Company, donated N200,000.00 each. Arthur Eze of Oranto Oil donated N100,000.
Others are Chief Sam Eke, whose name graces the popular Samek Junction, Ariaria Market, Aba. Late Eze Bernard Enweremadu, the foremost traditional ruler and the head of the Ngwa nation. His Majesty, Eze Ezoh Ukandu, Enyi n'Obiangwu of Imenyi ancient Kingdom.
(Check the list below)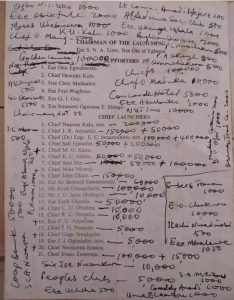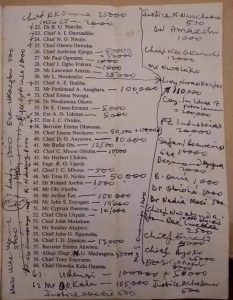 Igbo People Built The First Community-Driven Airport
Decades Of Benefits
For decades, this airport built by the people served the commercial city of Onitsha, the automobile and manufacturing city of Nnewi in Anambra State, the industrial hub of Aba, Umuahia, and Arochukwu in Abia State. Other beneficiaries are Okigwe, Oguta, and Orlu business districts in Imo State. The airport serves some parts of Akwa Ibom and Cross River States in the South-South part of Nigeria.