Introduction:
Onitsha, located in Anambra State, Nigeria, is emerging as a prominent business hub in Africa. With its recent hosting of the highly successful Onitsha Twitter Business Hangout, the city has gained attention as a vibrant center for entrepreneurship and innovation. This blog post explores the rise of Onitsha as a new business block in Africa, highlighting its key attractions, influential events, and its potential to shape the continent's economic landscape.
Onitsha Twitter Business Hangout: A Catalyst for Growth
On the 9th of July 2023, Onitsha witnessed an extraordinary event that brought together renowned industry leaders, influencers, and aspiring entrepreneurs. The Onitsha Twitter Business Hangout attracted notable figures such as Mr. Don Ebubeogu, MD of Tiger Foods Limited; Mr. Anieto Ajuluchukwu, Managing Partner of Susseto Group; Engr Happiness Chibuzor Akabuike, Google Developer Co-lead; Mr. Okeke Celestine, UN representative; and Mr. Olusegun Sogbesan of Onitsha Business School. Spearheaded by Ifeanyi Ogbaji, a prominent Twitter influencer, this business hangout served as a platform for networking, knowledge exchange, and the incubation of new business ideas.
Onitsha: A Magnet for Young Entrepreneurs and Influencers
The success of the Onitsha Twitter Business Hangout signifies the growing appeal of the city among young business entrepreneurs, media personalities, and social media influencers. Its strategic location, coupled with a conducive business environment, has made Onitsha a preferred destination for ambitious individuals seeking opportunities in Africa. The vibrant atmosphere and dynamic community foster creativity, collaboration, and the exchange of innovative ideas.
Unlocking the Potential: Business Incubation and ICT Advancements
During the business hangout, one of the key discussions revolved around incubating businesses in South East Nigeria and enhancing ICT knowledge. Onitsha, with its entrepreneurial ecosystem, provides the necessary infrastructure, resources, and support networks for startups and established businesses alike. The city's commitment to advancing technology and embracing digital innovation positions it as a frontrunner in the realm of ICT-driven enterprises.
What makes Onitsha a suitable destination for business ventures?
Onitsha boasts a strategic location, a growing market, and a thriving business community. Its entrepreneurial spirit, coupled with the availability of resources and support, creates a fertile ground for success.
How does the Onitsha Twitter Business Hangout contribute to the city's growth?
The business hangout brings together influential figures, fosters networking opportunities, and inspires aspiring entrepreneurs. It showcases Onitsha's potential as a dynamic business hub in Africa.
Onitsha business hub in Africa
Onitsha, Nigeria, is rapidly establishing itself as a new business block in Africa. The city's recent hosting of the Onitsha Twitter Business Hangout exemplifies its growing significance in the entrepreneurial landscape. With its conducive business environment, strategic location, and commitment to innovation, Onitsha attracts entrepreneurs, influencers, and investors looking to capitalize on Africa's emerging markets. As the city continues to flourish, it will undoubtedly play a pivotal role in shaping the continent's economic future.
Don't miss out on the incredible opportunities Onitsha has to offer. Join the vibrant business community, network with like-minded individuals, and be part of the wave of growth and innovation in this rising business hub of Africa.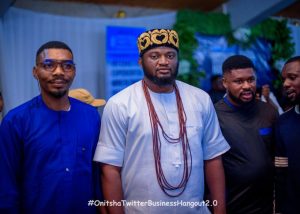 Have you read: The MD of Tiger Foods Shares His Experience With Obi Cubana