The journey of insatiable want ~

The pursuit of synergy
Introduction:
In the realm of business collaborations, some partnerships stand out as extraordinary. The meeting between the MD of Tiger Foods and Obi Cubana was one such remarkable encounter. This article unravels the intriguing story behind their strategic partnership, highlighting the valuable lessons learned, the significance of integrity, and the role of intangible assets in fostering success.
The Meeting that Shaped the Partnership:
When Nnabugwu Onyeka (Ikemba Okpataozuora) shared news of a meeting with Obi Cubana (Okpataozuora Global) in Germany, focusing on their shared business idea, it became an invitation that could not be declined. The trip exceeded all expectations, with Onyeka's impeccable planning and a series of captivating experiences.
Lesson 1: The Priceless Value of Integrity:
The trip emphasized the immeasurable worth of integrity. Onyeka's reputation for integrity earned him tremendous respect from the management and board of the Henkel Group. This esteemed recognition led to exceptional treatment, courtesy, and doors opened for their collaboration.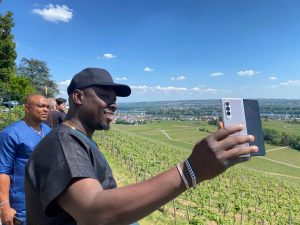 Lesson 2: The Power of Intangible Assets:
Obi Cubana's influence and reach extended beyond physical boundaries. His intangible assets, characterized by reputation and presence, attracted attention at the Prowein Exhibition. This global recognition, built on legitimacy and hard work, granted him entry into spheres beyond Nigeria's shores.
Guiding Intangible Assets:
Obi Cubana's vigilance in protecting his intangible assets is noteworthy. Amidst challenges, he demonstrated the value of reputation and authenticity, taking legal action to safeguard his image. As a multi-faceted entrepreneur, he emphasized the significance of intangible assets over tangible ones in his various ventures.
The Significance of Social Capital:
This story highlights the importance of social capital, the intangible resource that connects individuals and fosters opportunities. Pursuing sustainable growth necessitates nurturing legitimacy and goodwill alongside tangible assets. Onitsha, Nigeria, plays a significant role in nurturing such capital, propelling entrepreneurs towards success.
Strategic partnership between MD of Tiger Foods and Obi Cubana
The meeting between the MD of Tiger Foods and Obi Cubana in Germany marked the beginning of a strategic partnership rooted in integrity and intangible assets. Their experiences underscore the value of reputation, authenticity, and social capital in the business world. This extraordinary collaboration signifies the potential that arises when like-minded individuals join forces to pursue opportunities and create a lasting impact.
Join us on this inspiring journey of entrepreneurship and discover the keys to building successful partnerships. Learn from the MD of Tiger Foods and Obi Cubana as they navigate the realms of business, integrity, and intangible assets, setting a remarkable example for aspiring entrepreneurs.
Have You Read: A Young Entrepreneur's Journey Into Making Money Online
.