Tiger Spices has emerged as one of the Nigeria's leading company in the 'world of spices'. It is renowned for its rich natural taste and absence of preservatives. In its continuous endeavor to be dynamic and creative, the company has introduced new products, including Tiger Tomato and Tiger Mayonnaise. And to add more spice to its brand, Tiger Foods And Spices has appointed the beloved Nigerian actress, Mercy Johnson-Okojie, as its newest brand ambassador.
Do you know you can find interesting Nigerian food recipes in Tiger Foods' Website?
Mercy Johnson-Okojie: A Perfect Fit
Mercy Johnson's genuine love for good food and her prominence in the Nigerian entertainment industry make her a relatable and trusted voice to promote the company's products. With her endearing personality and vast reach, Mercy can effortlessly create a buzz and connect with the target audience, putting the brand in front of the right audience.
The Role of Brand Ambassadors
Brand ambassadors play a crucial role in humanizing a company and its products. They become the face of the brand, bridging the gap between the company and its consumers. Mercy Johnson-Okojie's association with Tiger Foods And Spices will bring authenticity and credibility to the brand. Her personal endorsement will not only elevate the company's reputation but also inspire trust among potential consumers.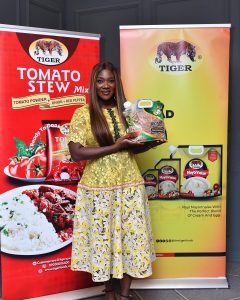 Embracing Creativity and Dynamism
With its commitment to innovation, Tiger Foods And Spices continues to evolve and create products that cater to consumers' ever-changing preferences. One such innovation is the introduction of dried tomato paste, offering convenience and enhancing the cooking experience.
Conclusion
The partnership between Tiger Foods And Spices and Mercy Johnson-Okojie marks a significant milestone for both. As the company continues to be dynamic and creative in its offerings, Mercy's presence as the brand ambassador promises to create a profound impact. With her genuine enthusiasm and reach, she will undoubtedly elevate Tiger Foods And Spices to new heights.
Mercy Johnson Tiger Foods And Spices Ambassador