Are you ready for a taste sensation like no other? Onitsha residents, get ready to indulge your taste buds in a delightful experience at the Tiger Foods Mayonnaise Tasting Party happening today! This extraordinary event, hosted by Tiger Foods Limited, promises to be a food lover's dream come true.
What is the Tiger Foods Mayonnaise Tasting Party?
The Tiger Foods Mayonnaise Tasting Party is a celebration of delectable flavors and culinary delights. Hosted by the renowned Tiger Foods Limited, this event allows Onitsha residents to experience the rich taste of Tiger Mayonnaise and a wide range of other delectable products.
Savoring the Richness of Tiger Mayonnaise
Tiger Mayonnaise is more than just a condiment; it's a culinary masterpiece. Made from the finest ingredients, this creamy delight adds a delectable richness to any dish. Whether you're enjoying it with fries, burgers, or salads, Tiger Mayonnaise is a taste sensation you won't soon forget.
The Tiger Foods Mayonnaise Tasting Party is a gathering of food enthusiasts from all walks of life. Join hundreds of Onitsha residents as they come together to celebrate the joy of food and the art of flavor.
A Feast of Flavors
At the Mayonnaise Tasting Party, guests will be treated to an unforgettable feast of flavors. From the tangy zest of their mayonnaise to the aromatic spices, each bite promises to delight the senses.
Step into the kitchen tent and embark on a culinary adventure like no other. Here, you get to be the chef and customize your taste. Experiment with various combinations of Tiger Foods products to create your perfect flavor profile.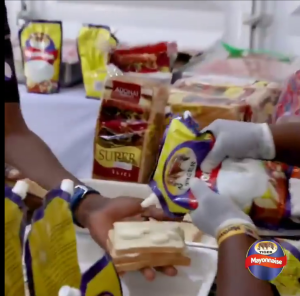 The Host: Tiger Foods Limited
Tiger Foods Limited is a leading name in the food industry, known for producing and marketing a wide range of healthy spices, food seasoning, dehydrated vegetables, paste products, and beverages. With a commitment to quality and innovation, Tiger Foods has earned a reputation for excellence in the culinary world.