The city of Onitsha experienced an extraordinary event as Tiger Foods Mayonnaise hosted a captivating Tasting Party that brought the community together like never before. Let's delve into the exciting details of this unique gathering that united the people of Onitsha.
An Amazing Atmosphere
The Tiger Foods Tasting Party in Onitsha created an electric atmosphere that captivated everyone present. At the entrance of the party arena, guests were greeted with the enticing aroma of fish barbecue prepared by skilled chefs. And opposite the gate, a dazzling array of drinks awaited, adding to the festivity. However, your eyes cannot miss the tent at the extreme. Inside the tent, an appetizing display of dishes ranging from jollof rice to succulent fried turkey parts and catfish barbecue tempted the taste buds of all attendees.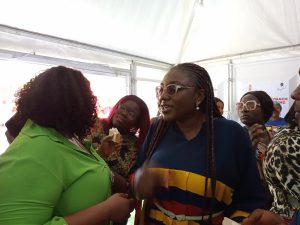 A Seatless Gathering: Embracing Informality
Unlike conventional events, this Tasting Party embraced informality. There were no designated seats for the guests, allowing them to move around freely and enjoy the delicious offerings at their own pace. The soft background music enhanced the ambiance without overpowering conversations, creating an ideal environment for mingling and connecting. Guests found ample time to discuss and appreciate the wonders of Tiger Mayonnaise.
Capturing Moments: Pictures and Memories
Amidst the delightful chaos, many guests took the opportunity to capture cherished moments. The smiles, laughter, and camaraderie were preserved in photographs, creating lasting memories of a unifying and enjoyable event. Mr. Don Ebubeogu and his wife, Mrs. Chinenye Ebubeogu, the hosts, effortlessly blended into the gathering without any airs of authority. Their warm and approachable demeanor made everyone feel at home, further contributing to the inclusive atmosphere of the event.
The Hidden Marvels: The Engine Room of the Party
Behind the scenes, a well-organized engine room ensured that the party ran smoothly. The dedicated team managed the food and beverage stations, ensuring guests' needs were met promptly. Their hard work and smiles added an extra layer of warmth to the event. The sumptuous spread of dishes showcased the culinary diversity of Tiger Foods Mayonnaise. From the tantalizing jollof rice to the flavorful turkey parts and the mouthwatering catfish barbecue, each dish was a testament to the unifying power of good food.
Tiger Mayonnaise: The Star of the Show
Tiger Foods Mayonnaise proved itself as the star of the event. Its exceptional taste and versatility shone through in every dish, leaving a lasting impression on all who tasted it.
The Tiger Mayonnaise Tasting Party in Onitsha showcased the true spirit of unity and togetherness. By creating an informal and inclusive environment, the event brought people closer, fostering new connections and lasting memories. With Tiger Mayonnaise as the culinary glue, guests savored delectable dishes and engaged in delightful conversations, solidifying the bond within the community.